Los Angeles, California – March 2022 This year Team IP had the pleasure of returning to the Golden State to again join forces with The Promotion Dept. and Action Face as the official merchandiser to the Los Angeles Marathon in addition to ASICS. These three joined forces to enhance the retail options for souvenir merchandise in addition to those offered by the presenting sponsor ASICS. This year's race brought over 16,000 runners and more than 30,000 at the expo.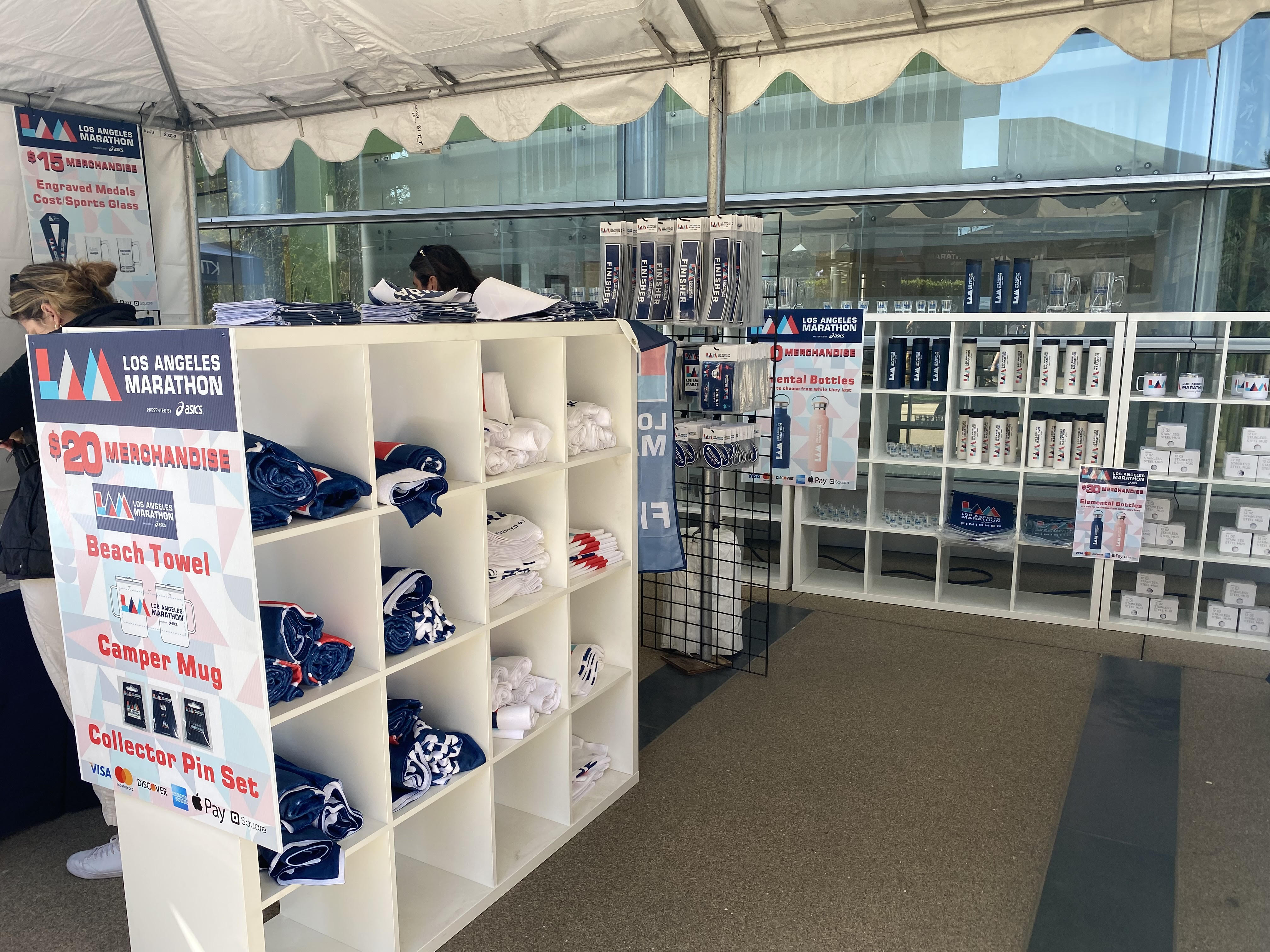 The 2022 Los Angeles Marathon began at Dodger Stadium and finished at Avenue of the Stars in Century City. Athletes enjoyed world-class entertainment and celebrated one of the most culturally diverse cities in the world as the course journeyed through Downtown Los Angeles, Little Tokyo, Hollywood, and more. The course followed its traditional route until Brentwood, where runners doubled back on San Vicente, Sepulveda, and Santa Monica Blvd before finishing at Avenue of the Stars. This new change allowed for a more vibrant and interactive finish experience than previously possible. It provided the opportunity for much greater spectator participation for family and friends with enhanced post-race activities including the Finish Festival with concerts and sponsor activations. It also put the runners closer to hotels, transportation, and nightlife in West Hollywood, Beverly Hills, and the best of LA.
For the second year in a row Team IP attended The Los Angeles Marathon Health & Fitness Expo held at the iconic Dodger Stadium. This year's expo played host over 50 exhibitors featuring brand-new designs in fitness gear and shoes, dynamic photo opportunities, live entertainment, as well as the latest developments in sports, fitness, and nutrition. Team IP's partner Action Face returned with their Red-Carpet Booth Experience where runners could get a FREE digital scan and customize and order their own 3-D printed action figure. The 2-day Health & Fitness Expo was free to the public.
Team IP has also partnered with The Promotion Dept. to offer onsite engraving of keychains and other promotional items as well as custom personalization on all official race medals at the Finish Festival following the race on Sunday.
"It was an honor to return to the LA Marathon for the second year in a row. Events like this allow us to showcase what we do best on a national level. It really sparks an excitement and momentum within Team IP that carry's us throughout the year." Randy Sparks Team IP CEO and Founder
About Action Face: A storied group of senior executives from Hasbro and Activision (toys and video games) has secured a 'Dream Team' nationally to create the technology known as Action Face. The technology utilizes facial recognition iPhone Technology to create any individuals 'Action Face' and their selection is printed by 3D Printer Technology and shipped to your door in 2 weeks. Prior to this technology the toy industry would produce a common gift to give a VIP, like the CEO of Walmart, as an action figure with his or her face on it and just five years ago that process cost $2,000+ and would take several weeks. What was just experienced today is a DREAM of the entertainment industry that is being placed Internationally in the market. Learn more at www.action face.me
About Team IP: Recognized as the No. 1 Souvenir Merchandiser for amateur sports in the U.S., Team IP provides decorated apparel and branded promotional products for its three divisions; Events, Digital, and Corporate. Founded in 1992, the company has grown exponentially, currently servicing more than 2,800 events annually while "Serving clients for over 30 years." Team IP is the exclusive provider of merchandise for major championship events, including 12 Disney-owned ESPN College Football Bowl games, and 6 others to include the Outback, Gator, Holiday, Independence, and Redbox Bowls and various USOPC Olympic national championships, Junior Olympics, and Olympic Trials. Team IP has the #1 market share for High School State Championships and is the exclusive provider of merchandise for NFHS members Florida (FHSAA), Georgia (GHSA), Alabama (AHSAA), Indiana (IHSAA), Kentucky (KHSAA), Massachusetts (MIAA), Rhode Island (RIIL), Texas (UIL), and Texas (TAPPS). Team IP is also a five-time recipient of the INC 500/5000 Award presented to the fastest-growing companies in the nation. For more information visit TeamIP.com + social media.