Stuart, FL | September 2022 – Team IP has big plans for the future! Our new leadership team of 12 gathered at The Dalmar hotel in Fort Lauderdale, FL on September 15th and 16th for a retreat to brainstorm and prepare for the 2022-2023 operating year, as well as the plans for Team IP's future.
At the retreat, the leadership team discussed the short term and long term goals for the company, each department's measurable goals for the year, and put some policies & procedures in place to help Team IP grow.
This year's theme is "Button Up - #Double". By buttoning up, we are streamlining processes and identifying areas for improvement to help reduce wasteful spending. We are looking to #Double by doubling the number of decorators we use across the country, doubling the number of reps we have working events, and double the number of clients we have.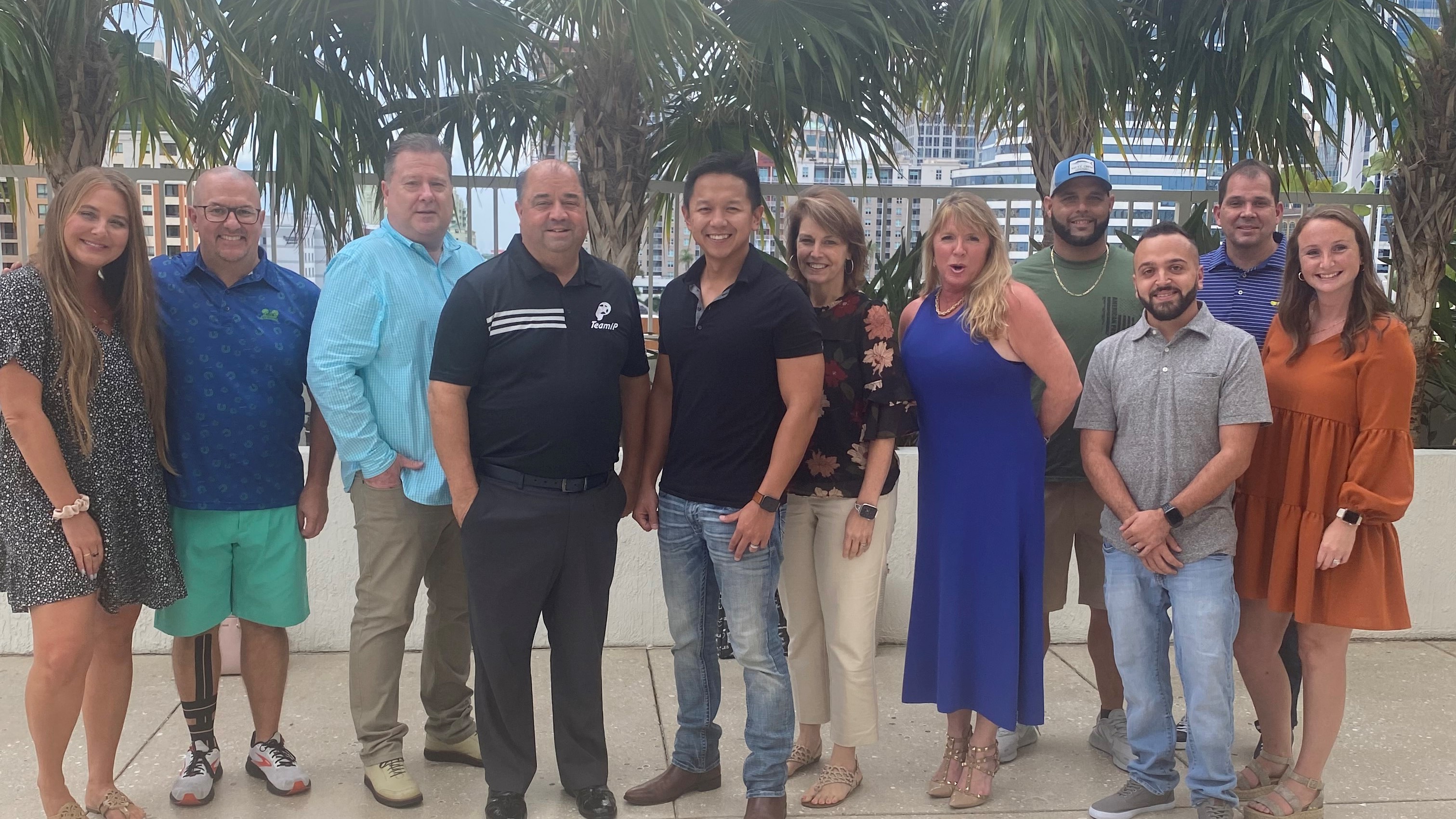 Team IP's new leadership team is made up of the following people:
Randy Sparks – CEO & Founder
Andy Sparks – President
Sandy Colter – Finance Director
Blaine Isbell – Vice President of Corporate & Digital
Randy Thomas – Vice President of Events
Paul Shinn – Chief Information Officer
Shannon Johnson – National Digital Manager
Caitlin Buckner – Events Division Director
Whitney Francis – Chief of Events & Recruitment | Southwest Territory Director
Karl Seiter – Rep Training | Southeast Territory Director
Giancarlo Falconeri – Inventory Manager
Don Lines – Midwest Logistics Manager
This was the first time Team IP's Leadership Team gathered for a retreat in the 30 plus years of the company. Not all the Leadership team is local to the company's headquarters in Stuart, FL, so having everyone around the table at the same time was extremely beneficial. An updated organizational chart was released internally, to help streamline communication and keep the organization running smoothly and efficiently.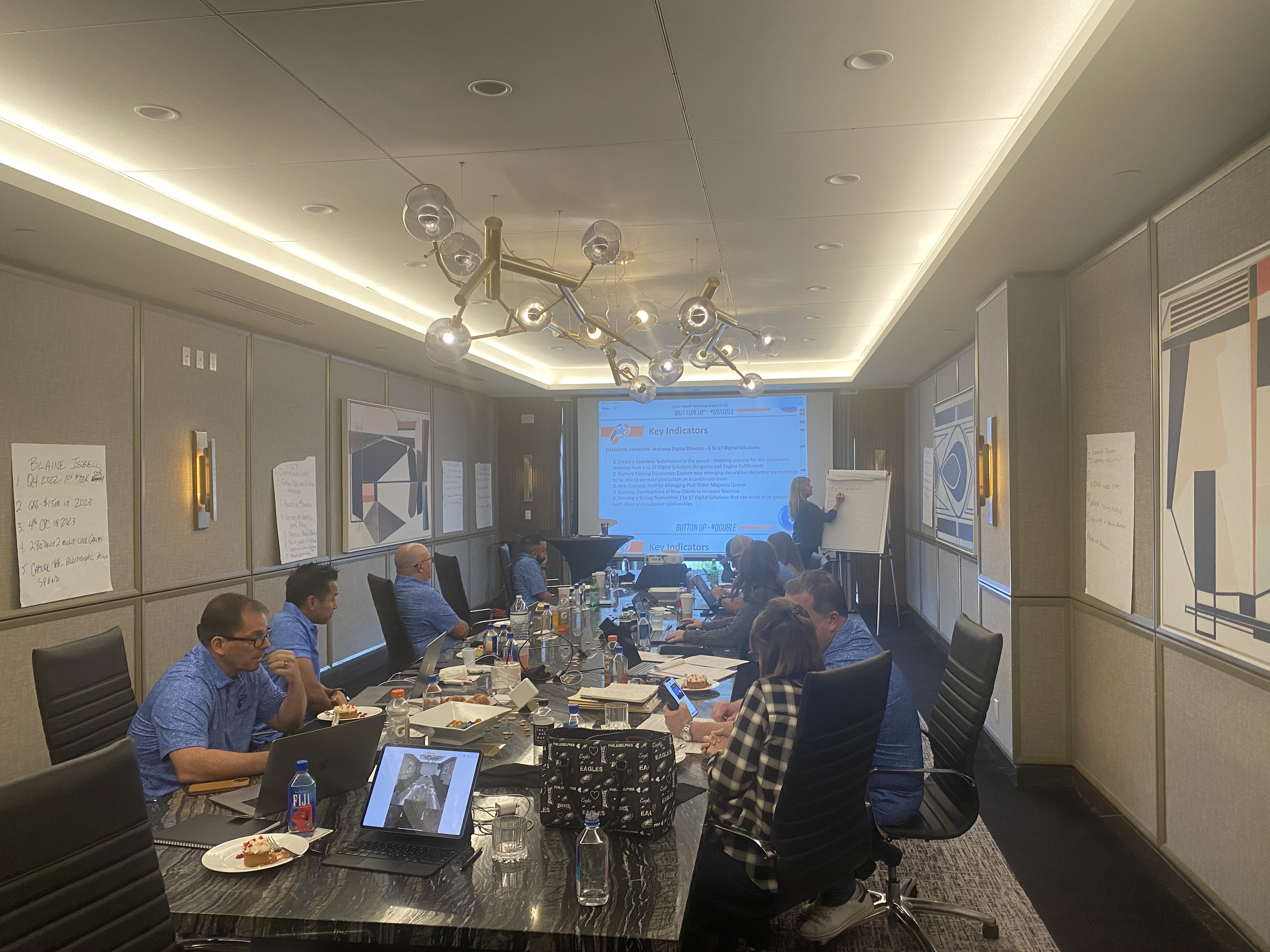 About Team IP: Recognized as the No. 1 Souvenir Merchandiser for amateur sports in the U.S., Team IP provides decorated apparel and branded promotional products for its three divisions; Events, Digital, and Corporate. Founded in 1992, the company has grown exponentially, currently servicing more than 2,800 events annually while "Serving clients for over 30 years." Team IP is the exclusive provider of merchandise for major championship events, including 12 Disney-owned ESPN College Football Bowl games, and 6 others including the Reliaquest, Gator, Holiday, Independence, and LendingTree Bowls and various USOPC Olympic national championships, Junior Olympics, and Olympic Trials. Team IP has the #1 market share for High School State Championships and is the exclusive provider of merchandise for NFHS members Florida (FHSAA), Georgia (GHSA), Alabama (AHSAA), Indiana (IHSAA), Kentucky (KHSAA), and Texas (TAPPS). Team IP is also a five-time recipient of the INC 500/5000 Award presented to the fastest-growing companies in the nation. For more information visit www.TeamIP.com.