Stuart, FL – April 2021 – Team IP is proud to announce the newest member to join the administrative team, Jeffrey John. Jeffrey joins Team IP as the Vice President of the Events Division which currently operates over 2,200 events annually with the expectation of over 2,500 events by the end of 2021. Initially, Jeffrey will spearhead the new technology advance, Auturian, that will revolutionize all operations at Team IP to include warehouse, inventory, operations, sales, digital, e-stores, and accounting all on one platform. He will also manage the nationally based event territory directors, employed event staff, and employed warehouse operations.
Jeffrey is nearing 20 years of experience in the Sports Tourism and Hospitality Industries. He started in the Sports Tourism Industry in 2000 with the Canton Stark County CVB. In 2008 moving to the Greater Columbus Sports Commission. Jeffrey left the industry for 2 years but returned in April of 2016 to Visit Tucson Sports and his true love. In 2019 he landed in St. Pete Clearwater.
Jeffrey is originally from Ohio and is a lifelong Cleveland Sports Fan and an Ohio State Buckeye Fan. Jeffrey has worked with the U.S. Olympic Committee National Governing Bodies, International Baseball, The Big Ten Conference, The NCAA, MLS Soccer, The Arizona Bowl, Ohio High School Athletic Association, and other National Event Organizers. He believes that relationships are the key to success and the competition is only a portion of the event, it is the experience that we create that is what lasts.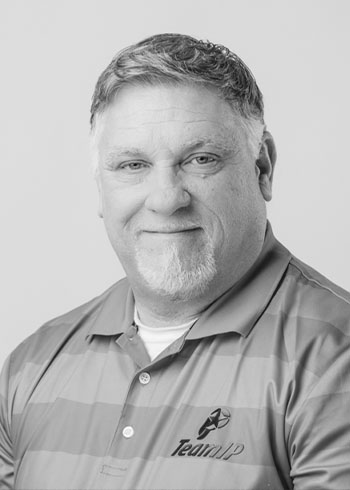 Jeffrey enjoys the outdoors, whether golfing, fishing, or at a sporting event. He also enjoys cooking and grilling in his spare time.
"The opportunity to work with Team IP is a tremendous one. I truly believe in the leadership and the mission of the organization. It will be exciting to bring an experience to fans of all kinds" Jeffrey M. John - Vice President of Events
Jeffrey will play a pivotal role in onboarding new event clients while working with all existing clients on upcoming events, expanding the retail product mix, and scheduled client reviews to maximize the partnership's earnings for both.
"Jeffrey's exciting addition and industry experience to the 'Next Level Team' here at Team IP will make an immediate impact on our entire organization with the immediate implementation of the new technology software, regional product on demand (POD) warehousing, new fleet management, and overarching new structure and policies & procedures that will assist Team IP during its current post-pandemic growth expected to double our company revenue from 2019 to 2022" Randy Sparks - Team IP CEO and Founder
About Team IP: Recognized as the No. 1 Souvenir Merchandiser for amateur sports in the U.S., Team IP provides decorated apparel and branded promotional products for its three divisions; Events, Digital, and Corporate. Founded in 1992, the company has grown exponentially, currently servicing more than 2,200 events annually while "Serving clients for over 25 years." Team IP is the exclusive provider of merchandise for major championship events, including 12 Disney-owned ESPN College Football Bowl games, and 6 others to include the Outback, Gator, Holiday, Independence, and Redbox Bowls and various USOPC Olympic national championships, Junior Olympics, and Olympic Trials. Team IP has the #1 market share for High School State Championship and is the exclusive provider of merchandise for NFHS members to include Florida (FHSAA), Georgia (GHSA), Alabama (AHSAA), Indiana (IHSAA), Kentucky (KHSAA), Massachusetts (MIAA), Rhode Island (RIIL), Texas (UIL), and Texas (TAPPS). Team IP is a five-time recipient of the INC 500/5000 Award presented to the fastest-growing companies in the nation. For more information visit TeamIP.com + social media.