Tampa, Florida March 2022 -- In an exciting announcement officials with the Bowl Association in Tampa have released the new name and logo for the bowl game previously known as the Outback Bowl. The "Tampa Bay Bowl" will continue the game's long tradition of playing on New Year's Day and the Bowl's TV Network partnership with ESPN and its conference affiliations with the SEC and Big Ten/ACC will remain unchanged.
The Tampa Bay Bowl continues a 36-year tradition in the Tampa Bay community and will host teams from the Southeastern Conference and Big Ten Conference or Atlantic Coast Conference/Notre Dame in Raymond James Stadium in January 2023. Over its history, it has brought more than a million out of market visitors to the region while creating an estimated $1.1 billion in economic impact and distributing $164 million to universities. It has also contributed more than $3 million to local charities since 2016 through its Charitable Giving Initiative.
"We are thrilled about our new Tampa Bay Bowl logo and name which is a reflection of our 36-year relationship with the vibrant Tampa Bay region as one of the most exciting and hospitable destinations of any college bowl game," notes Tampa Bay Bowl Chair Rita Lowman. "We look forward to continuing the Tampa Bay Bowl's positive impact on college football and the Tampa Bay community, both economically and by showcasing our region nationally and internationally. The Tampa Bay Bowl will continue to impact local charities through the game's Charitable Giving Initiative which has given more than $3 million in donations to local charities since 2016."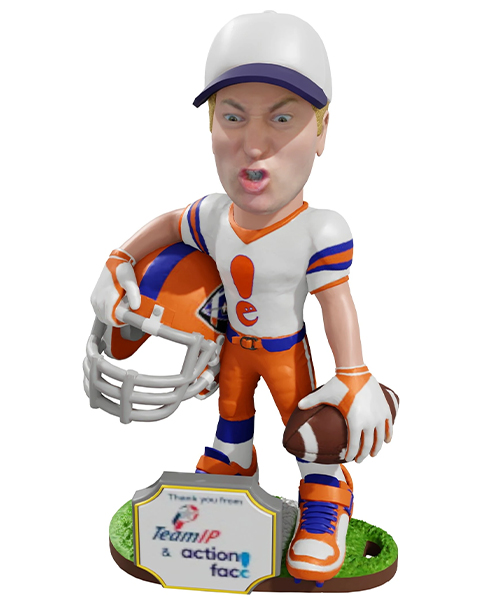 For the last six years, Team IP has proudly served as the officially licensed souvenir merchandiser for the Outback Bowl and will now continue its partnership with the Tampa Bay Bowl. Team IP's award-winning turnkey business model encompasses everything from concept art and logo design all the way to setting up the vendor booths and selling to fans both in-person and online. Team IP also leads the industry in supplying Bowl Games with player swag and coaches' gifts including the latest trend in promotional event merchandising onsite experiential gifts. Team IP's partner Action Face is now offering their Red Carpet Booth Experience where players and coaches can get a digital scan and then customize their own 3-D printed action figure. Team IP is beyond excited about this new partnership and the opportunity to offer this at future events.
"It is exciting to have the opportunity to continue our partnership with the Tampa Bay Bowl. Both Florida and college football are close to my heart, so this is the perfect combination. We love the excitement that college bowl game season brings, and we look forward to many more years with the Tampa Bay Bowl." Randy Sparks Team IP CEO and Founder
About Team IP: Recognized as the No. 1 Souvenir Merchandiser for amateur sports in the U.S., Team IP provides decorated apparel and branded promotional products for its three divisions; Events, Digital, and Corporate. Founded in 1992, the company has grown exponentially, currently servicing more than 2,800 events annually while "Serving clients for over 30 years." Team IP is the exclusive provider of merchandise for major championship events, including 12 Disney-owned ESPN College Football Bowl games, and 6 others including the Outback, Gator, Holiday, Independence, and Redbox Bowls and various USOPC Olympic national championships, Junior Olympics, and Olympic Trials. Team IP has the #1 market share for High School State Championships and is the exclusive provider of merchandise for NFHS members Florida (FHSAA), Georgia (GHSA), Alabama (AHSAA), Indiana (IHSAA), Kentucky (KHSAA), Massachusetts (MIAA), Rhode Island (RIIL), Texas (UIL), and Texas (TAPPS). Team IP is also a five-time recipient of the INC 500/5000 Award presented to the fastest-growing companies in the nation. For more information visit TeamIP.com + social media.