Stuart, FL – May 30, 2019 – This week Team IP signed a deal with ESPN Events Collegiate Esports Championship to become the exclusive provider for event merchandise, decorated apparel, branded products, and online retail integration.
As a further commitment into the world of esports, ESPN Events has announced the first-ever ESPN Collegiate Esports Championship (CEC). Hundreds of schools from across North America are currently competing in qualifiers all for the chance to compete in the live LAN (local area network) semi-final and championship in Houston, Texas May 10-12, 2019. Team IP will be there for all the excitement with a full line of event branded apparel.
"As universities continue to grow their esports programs at the varsity, non-varsity and club levels, we're proud to be providing a platform for national exposure and recognition of some of the most talented players in the collegiate space," said John Lasker, vice president of Digital Media Programming for ESPN. "Through our collaboration with top publishers in the industry, players will be able to showcase their talent in high-level competition on some of the most prominent esports titles."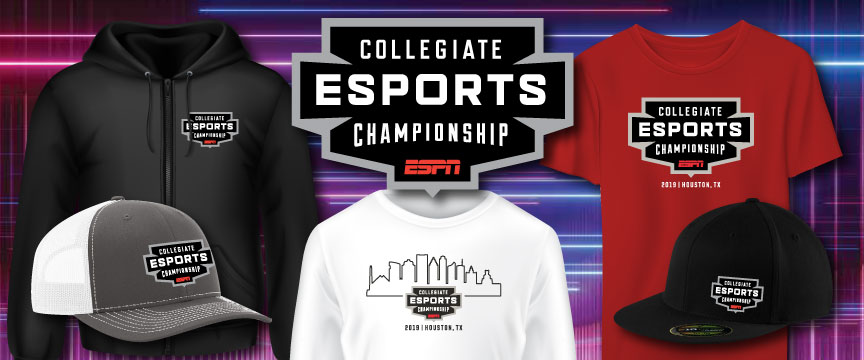 Team IP's corporate division continues to venture beyond amateur and collegiate sports to find new and exciting events to showcase what makes us the #1 souvenir merchandiser in the US.
"ESPN Events has been a great partner to Team IP and we are honored to be selected to help roll out the first-ever Collegiate Esports Championship. We look forward to bringing the same level of top-quality apparel we provide for their college bowl games to this and future Esport events."
Randy Sparks Team IP | CEO and Founder
The live LAN Championship in Houston will take place May 10 – 12, 2019, at the George R Brown Convention Center Comicpalooza weekend. Finalists will compete for prizes in the form of scholarships, and portions of the qualifying rounds and the LAN Championship will be streamed globally on various platforms. Individual day tickets and three-day passes start at just $15 and can be purchased at www.espnevents.com. Be sure to stop by the blue and red tents pick up some great 2019 CEC gear.